Description

Production consultant versed in funding Realty TV & Films thru private equity. Which also includes approaching networks for what is termed a buy out. Which is remuneration via paid position like writer, producer or executive producer credit.
We are in a HOT market right now, both in the investment arena and for TV networks. They are DESPERATE for ideas and places to put cameras! They are LITERALLY running out of places!
Just the other day I was speaking to a business owner in line at the post office "mortuary". And a network had approached HER to do a Realty TV show based around her business!
Also experienced with bringing in sponsors via branded entertainment aka product placement and monetizing signed contacts.
My primary focus is on Production Companies who have completed show concepts as well as primary budgetary numbers via line production budgets. Which preferably are completed in Movie Magic!!
Exceptions would be: established "A" list, actors, producers & directors!
On the investment side, "entertainment as an alternative asset", leveraging IP "intellectual properly" rights to the project, as an alternative investment for funding.
What I'm Leveraging: Industry contacts for the following:
Branded entertainment integration aka brand sponsorship, integration and merchandising. I prefer projects that have high opportunities for branded entertainment and merchandising, they are an easier sell! As an example animation or TV shows that are looking to transition into film.
Financial Industry Contacts:
Private Equity
Family Offices
Mutual Funds
Hedge Funds
Foreign Equity
And similar financial resources
Film Finance & Reality TV Preparation:
We will repackage the initial production companies concept and budget into an investors package that includes conservative financial projections, integrating branded entertainment, merchandising and any financial incentives from local, state or international government stimulus programs based on filming location(s).
This process is labor intensive and costs somewhere between $5,000 – $10,000 USD. This vastly depends on how you deliver your budgetary numbers and how complete your budget is. Movie Magic script break down is preferred!
Effectively we are converting your budget, distribution estimates, branded entertainment breakdown and attached actors. Into a business plan summary with ROI projections that investors are use to seeing and can quickly understand. They are rather impatient and need VERY concise overviews, if your to have any chance to get someones attention.
Some of the financial recovery mechanisms that investors tend to view in a positive light.
Optioned Actors, Letters of Intent or Signed Contracts.
Distribution Pre-Sales Projections from a recognized distributor.
Sponsorship via Branded Entertainment, brand intent letter
Heavy Merchandising Opportunities like toys and video games!
Film Funding: Investors Returns & both parties Long Term Equity:
20/80 cash upfront
In turn for 20% in cash investor will fund the other 80%. Generally a Mutual Fund Hedging or maybe a family office. Having this 20% to them guarantees that you will be VERY meticulous about getting this product to market! Being you have 20% of your OWN cash invested. And this is NOT cash from pre-distribution sales! Be advised this is from CASH on hand and they DO a forensic accounting on your finances to check…
This is the easiest and fastest equity funding method with numerous sources.
50/50 Model:
The investor will receive all cash inflows from whatever source until they have recouped their entire cash outlay plus a return of around 10%. At that point, 50% ownership of the "show" will be transferred to the production company and all future cash inflows and copyright ownership will be divided equally.
A "put" arrangement will be negotiated which will allow the investor to sell his 50% interest in the "product" to the production company or for the investor and production company to sell the entire "product" to a third party.
Crowdfunding Model: BEST!
Using this option you keep 100% equity! SWEET! HOWEVER it does require a large capital expenditure to give the Crowdfunding Campaign momentum!
It's all about BRANDING!:
So you ether need to have a already VERY LARGE social media base and newsletter audience to market too. [br] OR you need to spend $$$ on marketing and press for branding.
Short Elevator Pitch Video – This is needed ether way for the Campaign.
Viral Commercial to unleash to social media – Social Buzz
Cover Artwork for the Crowdfunding Campaign including all reward levels.
Cool and inspiring reward levels – Most important if no one BUYS them your out of pocket and luck.
Optioned actors to include in cool rewards, like a dinner or red carpet premier.
Timed SEO Optimized Press Releases: At the start, Middle and 48 hour before ending.
Social Media Marketing: Facebook at the very least and perhaps YouTube.
And maybe even Google Ad-words, using keywords for the actors you have optioned.
This generally can number somewhere in the neighborhood of $5,000 to $25,000 USD just for marketing not for optioned actors.
Leveraging Crowdfunding model for film I would suggest, using the VERY successful Iron Sky business model and combine it with Branded Entertainment!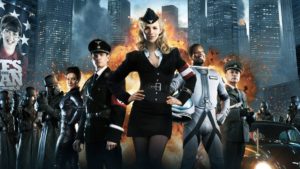 AND once your Production Company is solvent via crowdfunding other channels of revenue will be:
Please Note: Your film distribution pre-sales numbers will VASTLY depend on your attached writers, actors, directors, Ect!
Film distribution, with your actors options, script and Crowdfunding well underway. You can cash in on pre-distribution monies from Netflix, Hulu, foreign & domestic. To gain pre-sales $$$ for a completion budget to launch into full production!
And of course work with a production consultant on ambitious branded entertainment deck for sponsorship within the movie! To pre-capitalize on branding and any merchandising opportunities hopefully TOYS and maybe video games!
Upon production completion you will collect post sales distribution contracts and $$$'s. Along with actively seeking licensing for opportunities like toys / video games. All $$$ collected will be used for post production and CGI completion.
And BINGO your FILM BABY is born! LOL
Please Note: Back-end Fees, are vastly dependent upon funding sources, project scope and any branded entertainment.
My BIO: Why consider using me to facilitate financing your next project?
I went to UCLA for Film and TV one of my Mentors was a line producer for Disney. And showed me the ropes. I've been involved with film fiance on the formula 1 level. Including leveraging branded entertainment to acquire a team. I have numerous contacts both with brands and branded entertainment firms!
I am a business consultant offering a Business Mentor program, a Life Coach providing a holistic approach to improving health, wealth and life overall. And lastly I'm a Motivational Speaker and educator!
For me life is too short to be trapped in a 4 x 4 cubicle in a stuffy office somewhere. My freedom is important to me. I thrive on sunlight and freedom. I have never done well with authority. I am a child of the universe, a free spirit, a sensitive soul.
My extensive experience in the various business disciplines Film, Technology and Business Development for 27 years. Encompassing Web Marketing and Development, including eCommerce objectives, CRM Solutions, SEO, PPC, SEM, Product Placement aka Branded Entertainment, IP Marketing and Media Buying for over 18 years.
Fees as Production Consultation: $75 per hour.
Initial consultation minimums are 1 hour, sessions can be reschedule up to the evening before. However if they are cancelled same day, then 1 hour is FORFEIT!
Please Note: I don't take on projects on contingency, don't bother asking or wasting ether of our time…
---
If you feel you have well developed idea, please send the following:
---
Glenn Louis Parker is not a United States Securities Dealer or Broker, nor a U.S. Investment Adviser. Nor is Glenn Louis Parker a licensed attorney nor a law firm. This service is not to be considered a solicitation for any purpose in any form or content.
This communication is for informational purposes only, is not an offer, solicitation, recommendation or commitment for any transaction or to buy or sell any security or other financial product, and is not intended as investment advice or as a confirmation of any transaction.
---