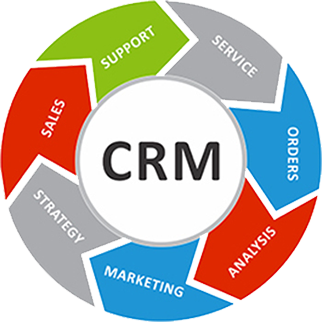 Get More Value More Quickly With a CRM Expert
The decision to bring in a consultant to guide a CRM software project is ideally made at the highest level of the company in the earliest stages of the project. Too often, however, it is made out of frustration when executives realize that their CRM initiative just isn't taking off or that it has run amuck and taken a large chunk of the budget with it. Or maybe they aren't even thinking about CRM, they just want to know why their customer satisfaction numbers are so low.
Glenn Louis Parker accelerate time to value, recommend business process enhancements, facilitate change management, enable greater utilization of CRM software systems and reduce implementation risk and brings over 20 years experience with CRM solutions!
Many CRM software buyers struggle to evaluate, compare and engage CRM consultants. The process is further complicated as no two consultants or consulting firms are equal or offer their services in a like structure or objective manner.
You need to hire a CRM consultant if, you don't have the proper IT talent on staff to handle a CRM software project Your company may have an excellent CIO or IT leader whose IT staff smoothly manages the transactional operations that keep the company running. Unfortunately, these people may lack the skill set necessary to handle a CRM project, much as they would like to take on the challenge.
The CRM effort requires systems analysts and solutions design experts who know how analytical data needs to be structured and used to drive the customer experience. Simply put, the systems developed using a traditional IT life cycle require real-time data, which is a different type of development than a CRM system, which requires historical and time-series aggregation. And until CIOs and CTOs recognize CRM as a defined discipline with its own set of competencies, CRM will have challenges getting traction.
Once you have narrowed the field down to a consultant short list, it's time to focus on the "soft" skills that can make or break a project—verifying compatibility and a shared mindset. That's harder; it involves really getting to know the candidates and the way they do things. It's essential to spend enough time with them to verify there is a cultural fit. Some consultants tend to be head strong and assertive. Maybe that's good if your team needs leadership and direction – or perhaps that would alienate your team further challenging teamwork and user adoption. Each company culture is unique and alignment with your professional services provider is important. Cultural fit may mean making a visit to the finalists' offices. See their business analysts and technical advisors in action. Check out the company's persona, and talk to the people who will be working on your account. And ask questions, like these:
Have you worked on similar accounts? How many and what were the results?
What are the advantages and disadvantages of a watershed versus a phased implementation approach?
What do you consider the greatest risk areas to be? How do we best mitigate these risks?
Based on your experience with these types of projects, what surprises are we likely to encounter?
How much experience do the consultants who will be working on our account have?
How will your consultants promote knowledge transfer to our staff during the project?
What happens if we find out we aren't a good match a few months into the engagement?
Have you ever been fired by a client? Why?
Have you ever "fired" a client? Why?
How are you different than other CRM consultancies and why should we hire you?
What do you bring to the table that your competitors do not?
How will you demonstrate our Return on Investment (ROI) in clear, measurable terms?
Lastly, its all important to remember that the consulting organization is only as strong as the consultants assigned to your project. Get resumes in advance and meet the proposed consultants to verify they have the skills, experience and cultural alignment to drive your implementation or upgrade project to success. If you have done your due diligence, you should feel confident that you have identified a good match and made a sound decision that will contribute to a predictable outcome.
---
Preferred: CRM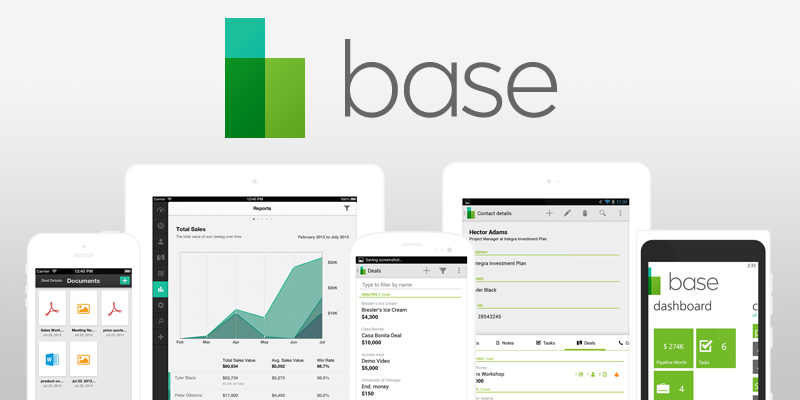 Base CRM gives you all the key CRM features in a simple and easy-to-use mobile app. You can manage your contacts, leads and deals. You can view upcoming events on a calendar and even generate reports, which is something most CRM providers do not include with their mobile app. Android, iOS and Windows Phone are all supported.
What's more is if you make a phone call or send a text message to a contact on Base, you can set up the app to automatically log the interaction with an option to write a note about it. There's also a Google Maps integration that displays a map of your client's location on each contact page. You can also view a map of all clients, which is useful if you need to find out who is nearby.
The Base CRM mobile app has the best user ratings of all the the systems we reviewed. Based on these user ratings and my own experience, I found the app runs very well with fast load times and an intuitive interface. It can even work offline by saving a cache of your records, so you can view your contacts or deals even when you don't have service. Pricing starts at $25/user/month, but increases to $75 to add workflow automation and sales forecasting.
Click Here To Try Base CRM For Free Today!
---
Questions, please fill out the form below: