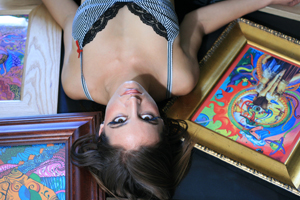 It started with a Vision – the creation of a Visionary Artist
After meeting visionary artist Adelaide Marcus, one would have to wonder, 'where did this creature come from?' It would only make sense for her to reply that both of her parents are artist themselves. Her mother is a dancer of various styles and her father is a painter and gallery owner. >From the time Adelaide was born she was encouraged to be as expressive as her heart desires, and her heart was ready. Her life-style started with a vision, to live an inspired life of creativity and authenticity, and now Adelaide is well on her way to becoming a world- renowned visionary artist.
The vision Bloomed- Visionary Artist at work
Adelaide Marcus' original vision has blossomed into a full-time career and business, Art by Adelaide. Art By Adelaide encompasses all the talents and expressive art forms that Adelaide offers, from an array of performing arts to the depths of her paintings. Adelaide no longer see's a separation between one form of creativity to another. "Working on the back yard, is similar to working on a painting, there are so many layers, and in the end it will come together as a beautiful display!" Adelaide has taken this philosophy and applied it to her life entirely. " To be a full time artist takes more than talent" Adelaide says, "one really must be creative in the way they choose to make a living off the skills they have. " To Adelaide, having a vision is most important, it is the seed that starts to grow and take form.
The Vision expands- The essence of the Visionary artist revealed
As Adelaide's artistic career continuously branches out in many directions, she is faced with the big question, "What do I really want to convey through my art?" This question has helped shape the path that she walks down. Though it used to fall in the shadows of her performance events, this past year Adelaide has decided to focus more time on her Visual art. Since this decision, each new painting seems to evolve in leaps! After traveling to Peru, Adelaide was inspired to work on a new series of paintings that have profound spiritual meaning to her. "Even though these creations are inspired from my own personal experiences and growth" Adelaide explains, "I feel that in some way they are created for another person who it will speak to it its own unique way." Alongside these more personal visual art pieces, Adelaide creates costume artwork as well. It has become that most of these commission clients seek Adelaide for her intuitive ability to convey their growth on a canvas. It is clear to them, and to many, that Adelaide is more than a painter who can perfectly recall the nuances of any object, she is a visionary artist.
Moving Forward: More than a Visual Artist… a Visionary Artist
Adelaide takes the impact of her art one step further than vibrant colors or technical precision. Her art work is created to be thought provoking and to promote change and transformation. "I can't think of a more graceful way to promote a shift in consciousness, than art, " Adelaide says with confidence. Because to Adelaide art can come in many forms, she has spread her message in many new ways, one of which being Artistic films, she calls Conscious collaborations. Working with Akira Chan Arts, Adelaide has become a part of a short film series that not only showcases her talents, but spreads awareness. In Adelaide's mind, we are living in a very special time with lots of opportunity for expansion. "As structures as we know them begin to fall, we are given the choice to change our ways." Because of this sense of urgency, Adelaide lives her life to the best of her ability and has decided to not hold back in sharing these thoughts. Her latest Visual art pieces are a perfect example of the direction Adelaide is moving, each packed with meaning and an underlying voice.
To Contact Adelaide please fill out the form below!
Supporting the vision- sharing in the path of the Visionary Artist using Visionary Art Paintings
Adelaide acknowledges that her success thus far would not be possible without tremendous support. There are many ways to show your support for the path that Adelaide is on. Adelaide describes, "The best part is, when people support my vision, they are also supporting theirs." Adelaide has an Art By Adelaide you tube channel, where she post her latest conscious collaborations and more. Her website, www.ArtByAdelaide.com, has info about upcoming events and Artwork. And of course, you can support Adelaide and her vision by purchasing her visual art. She has prints and originals available, and is open to commission art projects as well. Through her travels, and her unquestionable spark, Adelaide is well on her way to international recognition and success. Support is the key to unlock any door. Show your support for Art by Adelaide and the world of the Visionary artist!
---
Questions, please fill out the form below:
---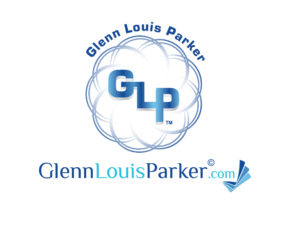 Love & Light
Glenn Louis Parker
Coaching; Life, Business & Health
Dream, Prioritize, Execute, Achieve, Repeat!

Mohandas K. Gandhi — Known also as "Mahatma" to his people meaning;
"The Great Soul"
"LOVE is the strongest force the world processes, and yet it is the humblest imaginable."

Viktor Frankl — 'Man's Search for Meaning'
"You Choose Your Path, or You're A Plaything of Circumstance"